koenigsegg SPECIALIST REPAIR CENTRE AND BODYSHOP
Koenigsegg was born in 1994 in Sweden, by Christian Von Koenigsegg, whose goal was to build the perfect supercar, and this dream is what propelled Koenigsegg from the very start. At just 22, Christian Von Koenigsegg began this process with design sketches, and a tiny team with an even tinier budget. Two years later, the first prototype was built, and Koenigsegg CC stood the test of time. From the very outset, reception of Koenigsegg's cars was glowing, and he was propelled into international business and hasn't looked back since.
Today, Koenigsegg employs 400 people full time to make the same great cars Koenigsegg was originally noticed for. Improving on his original designs, Christian has designed numerous successful cars, including the Koenigsegg CCXR, the company's first eco-friendly car, available to run on biofuel.
Everything done in the process of making a car, from design to manufacturing, is done in the name of performance. Christian's original dream of making the perfect supercar has become the business' core mission statement. Each car crafted by Koenigsegg is a car that you know is optimal, safe, and one of a kind.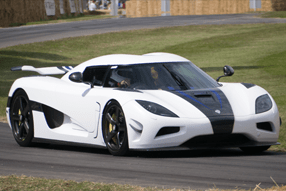 why choose wheels approved ?
  Koenigsegg Specialists
  Fully trained technicians
  Free courtesy cars with bodyshop repairs
  Exceptional customer service
  Aluminium and carbon fibre specialist
Wheels Approved did an amazing job on my car, I mainly communicated with Dan but all the staff that I came across were friendly and professional. Did little bits to my car that wasn't on the job i.e screenwash that had been sitting in my boot for months which was very thoughtful and helpful! They gave me a lovely new courtesy car to use while mine was being fixed. All in all the services is 11/10!
FOR koenigsegg REPAIRS, GET IN TOUCH TODAY WITH ONE OF OUR FRIENDLY EXPERTS ON 01932 355 356 OR VIA EMAIL WHEELSAPPROVED@MSN.COM. ALTERNATIVELY YOU CAN FILL IN THE CONTACT FORM BELOW.
© COPYRIGHT 2021 - WHEELS APPROVED AUTOWORKS - ALL RIGHTS RESERVED.